EU Blue Card Network

Live and Work in Europe
Recruiters
Exceptional Talent
Are you interested in recruiting exceptional talent from outside the European Union? The EU Blue Card Network is comprised of a rapidly expanding database with thousands of highly educated and skilled persons from countries such as Ukraine, India, United States and Russia. These skilled and educated people are needed to keep European economies competitive in the years to come.
Smart recruiting
EU Blue Card network facilitates an environment that enables recruiters to comfortably connect with candidates. There are no job postings in the Network. Job postings sometimes trigger a flood of responses that recruiters need to sift through and respond to. We're putting recruiters back in control by giving them the tools find relevant profiles based on search properties. A recruiter may perform either a key word search or filter profiles on characteristics such as educational level, profession and country of origin.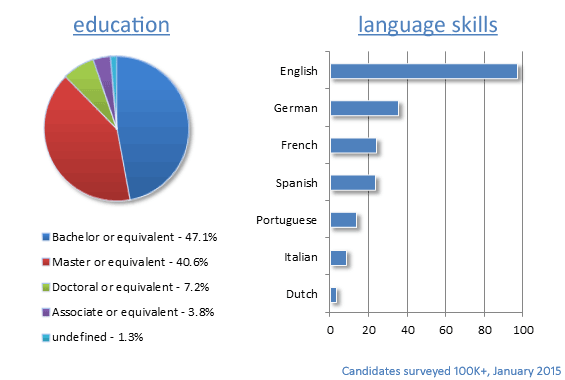 Match & connect
After finding matching profiles select each one and view the full details. Each profile contains details about the candidate's educational, professional and personal background. Contact information enables you to get in touch with the candidate via e-mail, phone or per mail. EU Blue Card network does not benefit from a match resulting in a job contract.
Secure environment
To protect the candidates' privacy, a short-track agency integrity check is conducted. Recruiters are not allowed to share any details from a candidate's profile with any third party. Forwarding a profile or CV to a third party can only take place with consent from the candidate.
Getting to work
Setting up a recruiter account is free of charge. To start a recruiter account or for any additional information, please contact the recruiters response team, or call +31.765083428.