Contact
EU Blue Card Network (BCN)
Rue de la Science 14b
1040 Brussels
Belgium
Meetings only - call before visit!
Ceresstraat 13
4811CA, Breda
The Netherlands
T: +31.628 353 855 available: 09:00-12:00 (CET)
W:
WhatsApp (31639820712)
(no voice)
E:
support@bluecardnetwork.eu
E:
helpdesk@apply.eu
CoC: 64273857
VATIN: NL855594305B01
We are happy to answer your questions.
Keep your candidate ID number at hand when calling.
Email reply is usually within two business days.
Email attachment size has to be < 500kB.
Support the initiative!
Candidates add this button to your CV!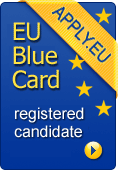 Additional promotional images.